Beijing Zohonice Beauty Equipment Co., Ltd.
ContactDan Zhou
Phone86-10-60296356
Product Details
| | | | |
| --- | --- | --- | --- |
| IPL+ RF: | Yes | Certification: | CE |
| Place of Origin: | Beijing, China | Brand Name: | Zohonice |
| Model Number: | N8-Amyni | Feature: | Acne Treatment, Anti-Puffiness, Blood Vessels Removal, Dark Circles, Hair Removal, Pigment Removal, Pigmentation Correctors, Pore Remover, Skin Rejuvenation, Skin Tightening, Wrinkle Remover |
Packaging Details
Package:Aluminum alloy case for exportation
Package:54x56x88cm3
Gross weight:42kg
Product Description

Certifications
What is IPL Skin Rejuvenation?
IPL is a kind of photon therapeutic apparatus, also called IPL photo rejuvenation. It is widely used for skin rejuvenation, hair removal and pigmentation removal with the therapeutic mechanism of thermal selective effect. It is a kind of non-abrasive photodynamic therapy, making use of insignificant amount of intense pulsed light technology to conduct non-abrasive skin rejuvenation therapy with low energy and density, to achieve the purpose of rejuvenating and beautifying the skin.
N8-Amyni 2 handles Ipl shr vertical ipl shr machine ipl shr laser hair removal machine ,
(Model:N8-Amyni)
hair removal device Product Attribute:
ipl hair removal device is hair salon equipment ,ipl hair removal machine;
skin care;hair shaving machine,infrared wrinkle remover beauty equipment;
beauty equipment for hair treatment.
ipl hair removal device Features:
1. Advanced non-stripping, non-damaging skin rejuvenation technology.
2. Unique pigment identification procedure, super-ray filtration system, multiband alternative precision adjustable.
3. The imported sapphire light crystal, automatic controlling function ensure cold narcotic treatment without pain.
Specifications:
Technical

Standard

Light Source

Intensive Pulse Light(3 times atmosphere press)

Energy Density

10J/cm2 - 50J/cm2

Power Supply

220V/50HZ or 110V/60HZ

Pulse Number

2/3/5

First Pulse Width

2ms - 15ms

First Pulse Delay

5ms - 60ms

Second Pulse Width

2ms - 15ms

Spectrum Range

380nm/430nm/480nm/530nm/560nm/640nm/690nm/750nm

Repeat Frequency

1HZ/2HZ/3HZ

Cooling System

Winding Cooling Water Cooling Semi-conductor Cooling System

Treatment Area

15×50mm2 or 15×35mm2

Instrument

Standard

Outer Dimension

54×56×88cm3

Inner Dimension

45×44×72.5cm3

Gross Weight

42KG

Net Weight

30KG

Screen

8.4 inches Real Color Touching Screen

Size of Spot

15X50mm2 or 15X35mm2

Working

Condition

Conduct Temperature

5oC~25oC

Relative Humidity

≤70%

Shipping

Store

Temperature

-20oC~55oC

Relative Humidity

≤90%
How it works
IPL (Intense Pulsed Light) is a kind of light with high energy and broad wavelength, within the range
from 420nm to 1200nm. Intense Pulsed Light with broad spectrum affects pigmentations, vascular
lesions and hair follicles. Photochemical and photochemical action will be triggered by the radiation of IPL.
Pigment is shattered and eliminated out of body through metabolism. Meanwhile, IPL will also promote collagen production, which can make the skin more flexible and smooth. The light with long wavelength can easily pass through epidermis layer to the hair follicles in the deep skin layer. At the targeted area,high energy occurs to destroy follicles and hair shaft, preventing regrowth of new hair. With a series of treatment, IPL technology can help restore a more youthful appearance without downtime and side effect.
Machine analysis: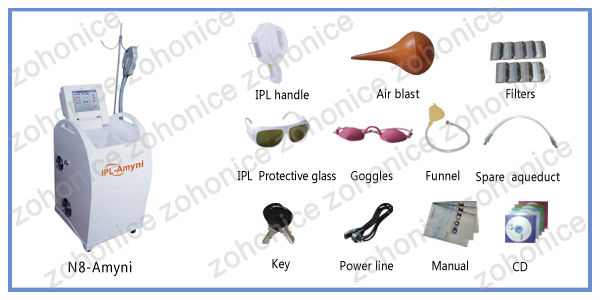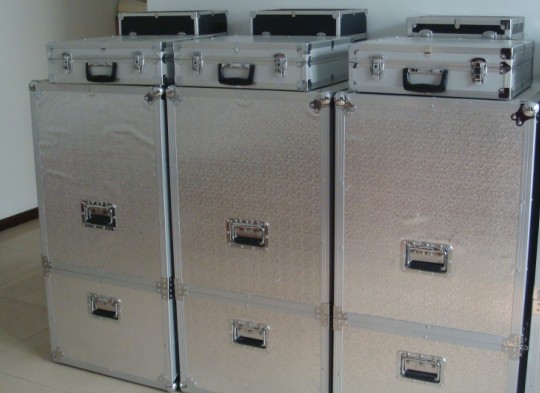 IPL applications
1. Hair removal: Remove unwanted hair in different depths and thickness;
2. Skin rejuvenation, contract the pores and remove black heads;
3. Effectively remove all kinds of pigment, such as a freckle, deep-seated speckle, cuticular speckle, corium speckle, age pigment and chloasma;
4. Remove facial vascular lesions (Telangiectasis or pathological capillary vessel);
5. Remove acne on face and body effectively;
6. Dispel wrinkle, tighten skin, and lift face;
*Warranty:
1) Within 1year, if there is some accessory going wrong, we will send you the accessory at once, free of charge.
2) Within 1month, if the machine is of any big fails, we will send you a new machine.
3) Within 1year, if you send back the equipment for repair, we will be responsible for the repair, including the changes of the accessories, both of them are free of charge.
4) After 1year, we offer to repair the machine, but we require for the cost of the changed parts, not for manual cost.
5) No responsibility for man-made destroy.
6) If the buyer has any questions from our technical department, we can supply on-line service
*Training:
when you buy our products, you should be after trained to use the product for the treatment. We have user manual, Video online serviceto teach you how to use the mahcine.
* OEM ODM:
we are a beauty machine manufacturer can serve you manufacturer price and good quality and service, also serve you ODM according to clients' special require design logo and program with multi-language.
*About Zohonice:
Beijing Zohonice Equipment Co., Ltd. is an integrative enterprise that specializes in the R&D of laser beauty products. We invest a lot of time and effort in developing the series of Q switch laser machine,IPL,RF, Elight, Long pulse laser ,Er Glass fractional laser and LED(PDT) equipment. Our company has made our own contribution in the laser cosmetic line 5 years. We can do OEM/ODM orders.
*Main produsts:
Main products including E-light, IPL, RF, Laser, PDT(LED), Cavitation Body slimming, No needle mesotherapy, 808nm diode laser hair removal equipment, Teeth whitening machines, Lipo laser fat burning machine. Most of products have passed the CE certification, Fit for Europe standard.
*Certifications: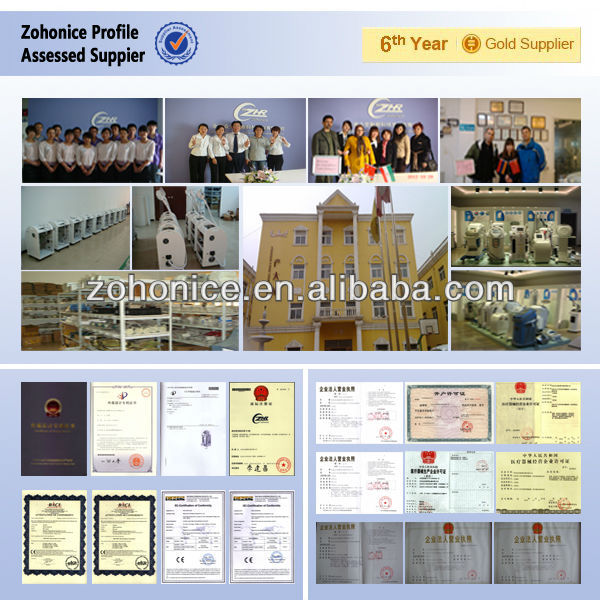 How does it work?
IPL strong pulse optical organization can have a role in skin-ray thermal role and photochemical role. Pathological changes organizations eject epidermis after absorb energy, with its own metabolism decompounding and falling off. At the same time, it can stimulate collagen fibre to regenerate and make reorganization of strong fibre and hemoglobin absorb energy rapidly, capillary's wall being added thickness and contracted. It can improve the skin of face, remove speckle, wrinkle and shrink pores.
key word: pigment removal machine ,ipl pigment removeal machine
Similar products recommended
Contact information:
welcome to China
welcome to Beijing
welcome to Zohonice
Principle:
E-light:
Through light pyrolysis principle, using intense pulsed light can act directly on the skin, make skin lesions on the solar energy selective absorption to the treatment of a variety of tissues, and do not damage normal skin tissue.
RF:
RF through the skin directly in the dermis, activation of dermal cells allow water molecules are high-speed vibration friction energy, when the local to about 60 °C (subcutaneous gusts of warm sense) dermal collagen immediately convergence and activation of long term growth so as to improve the convergence of the skin and anti-aging effect of living color.
Contact Us
Beijing Zohonice Beauty Equipment Co., Ltd.

Contact

Dan Zhou

Phone

86-10-60296356
Find Similar Products By Category