Yangzhou Qianyuan Electric Equipment Manufacturing & Trade Co.Ltd.

China Manufacturer with main products:Anti-twisting Steel Wire Rope ,Hydraulic Crimping Tools ,Stringing Pulley Block Roller ,Engine Motorized Powered Winch ,Come Along Clamp ,Cable Conveyor
Product Description
Electric Power line Hydraulic Puller
Hydraulic Self-propelled Conductor Puller
Description:
A. They are widely used for stringing the conductors & cables(OPGW,ADSS,500kv traction rope, ACSR series, etc.) in the overhead line stringing construction.
B. This machine has a set of tension early warning system, which can automatically adjust the speed according to the undue load or friction produced on the line and can keep the tension at setting value.
C. Tension or pulling force can be preset, spring applied brake, reliable overhead protection mechanism, easy to operate.
Main configurations:
Engine : CUMMINS made by joint venture in China
Main hydraulic motor : REXROTH in German
Main hydraulic pump : REXROTH in German
Speed Reducer: REXROTH in German
Hydraulic valve(Italy ATOS); pipeline system and meter ( made in Italy or German WIKA)
Product No.

Model

Max pulling force (KN)

Max Continuous pulling force (KN)

Corresponding speed

(km/h)

Max continuous pulling speed

(km/h)

Puller wheel diameter Dia

Φ(mm))

Groove number

Max steel wire rope DiaΦ(mm)

Max steel ree Dia

Φ(mm)

Engine Power

(KW/RPM)

Electrical System

Dimensions

(mm)

Weight

(kg)

10552

QYT280KN

280

250

2.5

5

960

11

38

1600

298/2100(Cummins)

24

5800×2500×2850

12800

10553

QYT180KN

180

150

2.5

5

700

10

27

1400

220/2200(Cummins)

24

4300×2360×2380

6800

10554

QYT90KN

90

80

2.5

5

540

8

21

1600

118/2500(Cummins)

24

4000*2200*2100

4000

10555

QYT60KN

60

50

2.5

5

450

7

18

1400

77/2800 (Cummins)

24

3800×2100×2300

3500

10556

QYT40KN

40

35

2.5

5

450

7

16

1400

77/2800 (Cummins)

24

3800×2100×2300

3500

10557

QYT30KN

30

25

2.5

5

300

7

13

1400

38/2200(Deutz air-cooled engine)

24

3200x1600x2000

1500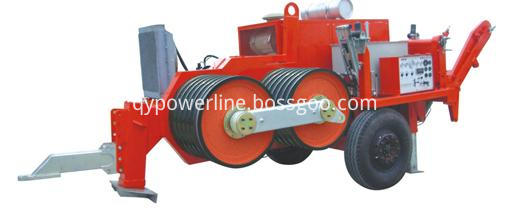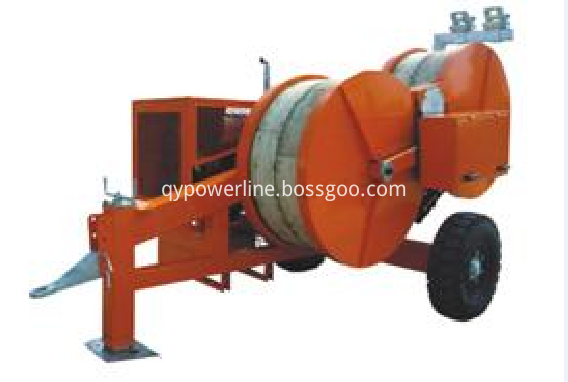 http://www.qypowerline.com
Contact Us
Yangzhou Qianyuan Electric Equipment Manufacturing & Trade Co.Ltd.

Contact

Frank Yu
Find Similar Products By Category