Chongqing Savan Electromechanical Equipment Co.,LTD

China Manufacturer with main products:Francis turbine ,Pelton turbine ,Kaplan turbine ,Turgo turbine ,Tubular ,Water Turbine ,speed governor , transformer
Selling Water Turbine Electric Generator / Hydro Power Generating Units
USD $20000 - $80000 / Set |Get Latest Price

1 Set / Sets

100 Set / Sets per Month

Chongqing

T/T L/C D/P D/A MoneyGram Credit Card PayPal Western Union Cash Escrow

180 days
Add To My Cart
Download Product Catalog
Product Details
Brand Name:
csec
Place of Origin:
China
Model Number:
N/M
Type:
Other, Hydro power generator
Packaging Details
Standard Export Package.
Product Description
Alibaba Recommended Supplier

Alibaba Excellent Supplier
1. About US:
CSEC is specialized in businesses related with Medium, Small and Mininum Hydroelectricity Power Projects Since 2004. Based on technical team members with abundant professional knowlege, rich practices and experiences for more than 20 years in this specific industry, CSEC is focusing on special package solution design and supply of water turbine-generator sets and the auxiliaries according to the special working Conditions of certain power station.With plenty of industrial resources CSEC has stragegic alliances With Several professional hydropower survey and design institutes, turbine-genereator and auxiliar equipments manufacturers, aiming at customized proposals to customer's projects worldwide on "W2W" basis, providing package solution, technical design and engineering supervision, E&M equipments supply, installation & commissioning services etc.
2. CSEC'S Main Businesses:
2.1 For New Hydro Power Projects:
- Site survey & design
- Conmplete E & M equipments supply and related services
- Erection and Commissioning
- Plant management and maintance
( Ranging from trash defender, hoist and gate of water in-take to penstock, main powerhouse equipments and auxiliaries, first and secondary electrical equipments, then to substation, transmission line, even distribution station.)
2.2 For Old Hydro Power Projects:
- Spare parts supply
- Technical imporving and equipments updating
- Running a Hydropower Hospital in our Nepal Branch (serving the market with design consultancy,problem diagnosing, trouble-shooting, spare parts supplying, repairing and replacing, etc.)
3. Applications & Suitable Water Head:
1.Power: 50kw~200Mw

2.Frequency: 50hz or 60hz

3.Output Type: AC three phase

4.Output voltage:400V, 3.3KV, 6.3KV, 10.5KV, or 13.8KV

5.Working Water head:
- For Francis turbine 20~500m
- For Pelton turbine 40-1700m
- For Kaplan turbine 2~70m
- For Tubular turbine 1~40m
- For Turgo turbine 40-250m


6.Warranty period: 1 year(or more)

7.Lifespan: 30~50years
Customizing Water Turbine Generator For Small/Medium Hydro Power Plant
----------Francis Horizontal / Vertical Water Turbine Generator Set
Customizing Pelton Hydro Turbine For Micro/Small/Medium Power Plant
Axial-flow Adjustable blades(Kaplan)Turbine Generator Sets-Hydropower Station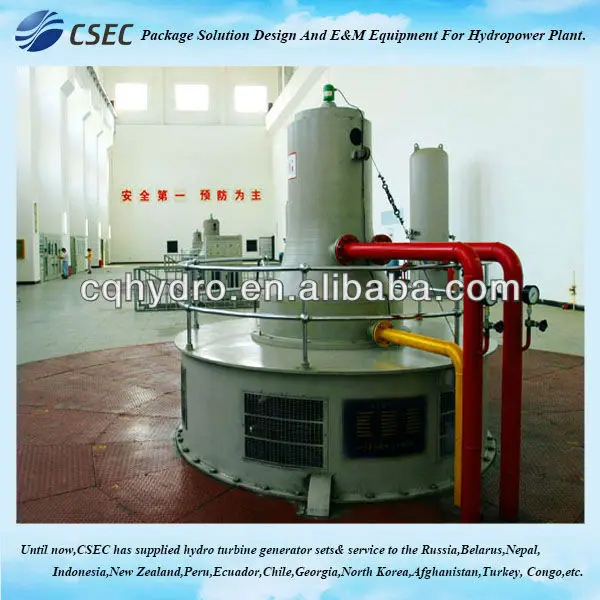 Turgo Turbine Generator Set/ Inclined Jet Turbine
Tubular Water Turbine Generator /Bulb Tubular Turbine/Shaft Extension Turbine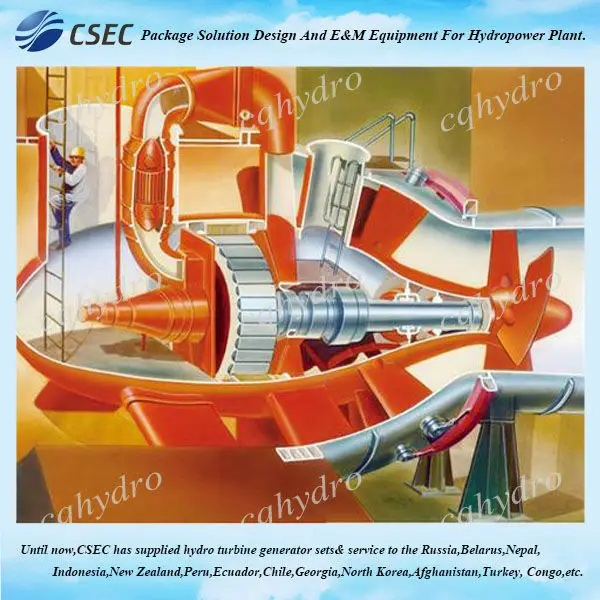 3x2700KW Horizontal Francis Hydropower Plant

3x8000KW Kaplan Hydropower Plant
* Until now, CSEC has provided water turbine generator setsto Chile, Peru, Russia, Belarus, Nepal, Congo, Korea, New Zeland, Afghanistan, Turkey etc.
Kindly Notice:
1. We can design and produce all varaties of water turbine-generator sets and auxiliaries accoding to the special working Conditions of certain power station specfic needs, so Please feel free to ask me for more imformation.
2. In order to our engineers make model selection and provide you best solution, pls send us
key technical parameters (such as Gross/Net Head, Water Flow, Installed Capactiy and Qty, Generator Voltage,Frequency etc ) in inquiry.
3. If you are still puzzled about our product or need further disscuss with us, please write to me if i am offline. Wish you happy in your searching!!!
Contact Us
Chongqing Savan Electromechanical Equipment Co.,LTD

Contact

CSEC
Find Similar Products By Category