POUL TECH MACHINERY CO.,LTD

China Manufacturer with main products:layer chicken cage ,broiler breeder chicken cage ,poultry
Home>Products>Plasson Drinker>Chicken Farming Automatic Drinker & Plasson Drinker & Bell Shape Drinker & Chicken Waterer & Plastic Drinker for Malawi
Chicken Farming Automatic Drinker & Plasson Drinker & Bell Shape Drinker & Chicken Waterer & Plastic Drinker for Malawi
USD $4 - $4.5 / Piece |Get Latest Price

100 Piece / Pieces

10000 Piece / Pieces per Month

Qingdao

T/T L/C PayPal Western Union

15 days
Add To My Cart
Download Product Catalog
Product Details
| | | | | | |
| --- | --- | --- | --- | --- | --- |
| Brand Name: | POUL TECH | Place of Origin: | China | Model Number: | PT-PP3 |
Packaging Details
Package: Packing by Wooden Box or Carton Container Size:20GP,40GP,40HQ Container Capacity: 20GP-6x2.4x2.5meter,17tons,28m3 40GP-12x2.4x2.5meter,22tons,56m3 40HQ-12x2.4x2.8meter,29tons,68m3
Product Description
Automatic Plasson Chicken Drinker & Waterer for Poultry Farming
Product Description:
Plasson drinkers is a water supply equipment used in chicken farming waterline. Used in chicken farms commonly, especially as water equipment for small chicken farm.
Product Composition:
Plasson drinking is made of water bowl, moved support, springs, water seal gasket and main pipe on the support, inlet pipe etc. It have a anti-splash board around inlet pipe on the support.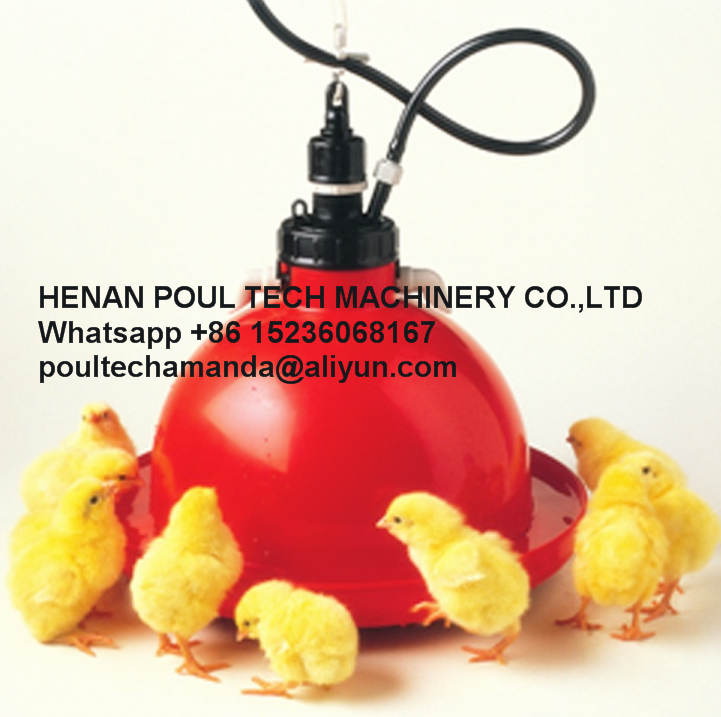 Product Classification:
Using for Big Chicken:
Old Type: external diameter is 34cm, total height is 58cm
New type: New Type: external diameter is 34cm, total height is 33cm
Using For Small Chicken:
New type: external diameter is 23.5cm, total height is 25cm
Product Feature:
1.made of pure polyethylene, anti-aging, non-polluting.
2.Novel design, reasonable structure, It saves labor cost.
3.Save water and feed, improve environment, make chicken drink fresh water every time.it is ideal drinker in chicken farm.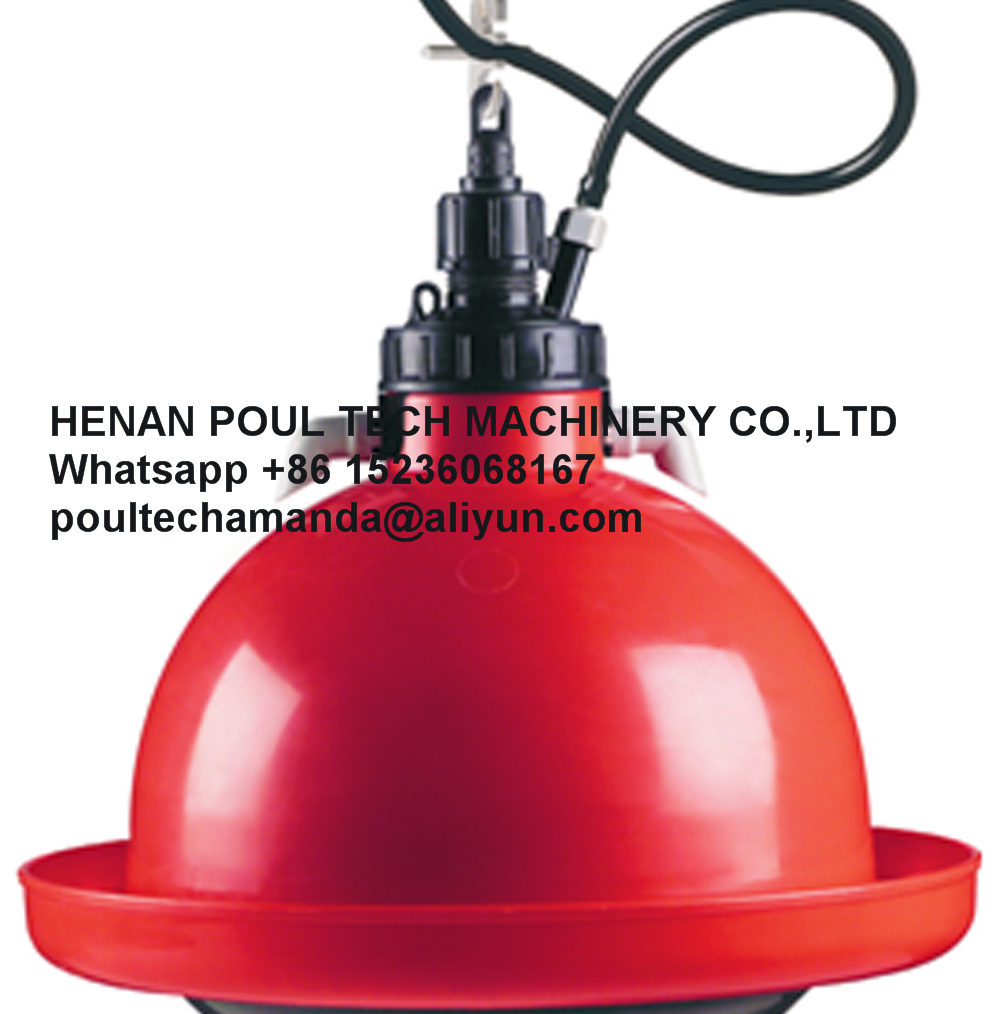 The Usage and Control of Plasson Drinker:
Cleaning:
1. Under use
0 - 14 days 1 time/day
15-28 days 1 time/2 days
After 28 days 1 time/3 days
Cleaning Requirements:
Tool: a sewage bucket, a disinfectant bucket , a dishcloth.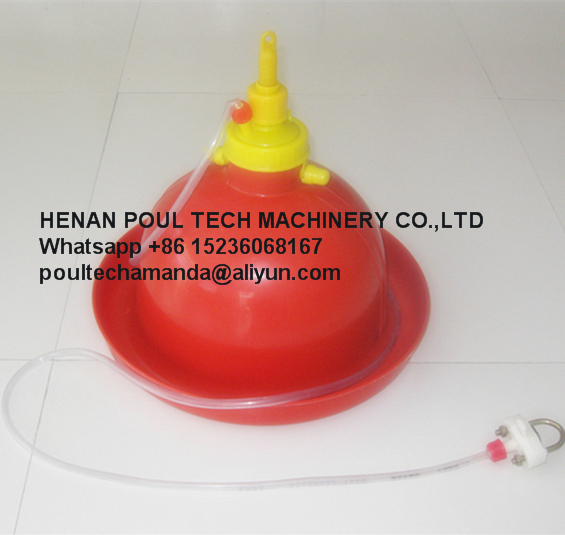 Method:
a. Pour the rest water from plasson into sewage bucket.
b. Scrub the surfaces and sink of Plasson by dischcloth moistened with disinfectant
c. Pour residual water from Plasson sink into sewage again.
d. The sewage should be took outside of coop and pour into drainage ditch, Splashing on inside floor is prohibited.
e. Disinfectant should be replaced timely according to specific circumstances.
f. Before and after immunity. also that day,it should be washed by water.
g.Request the disinfectant is low toxicity, high efficient, non-corrosive and non-irritating when choose.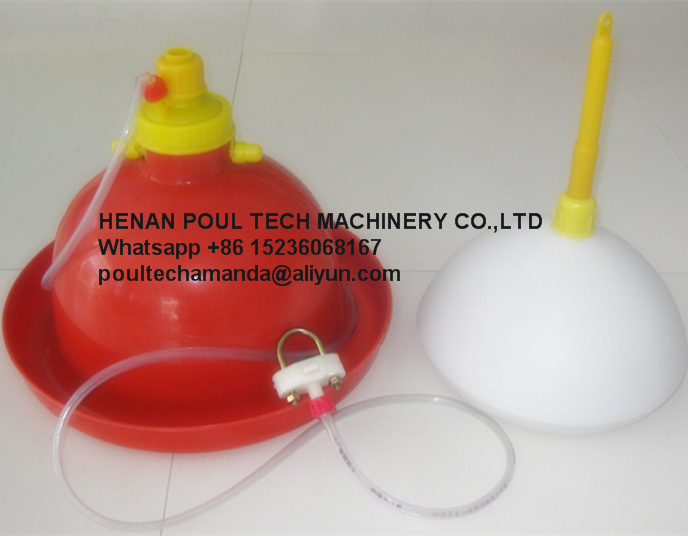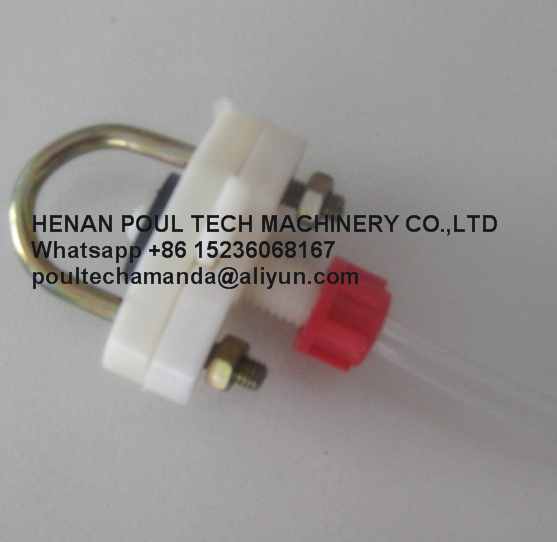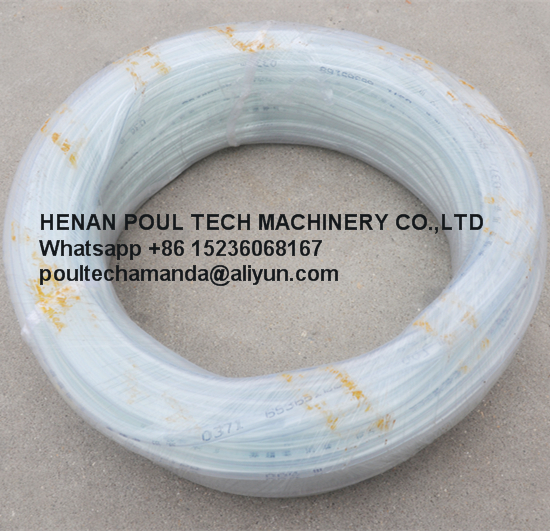 Before Use:
Tool: bucket, dishcloth,shoe brush,Clean ball, disinfectant
a.Scrubing the Plasson clean with water, especially the surface of tank wall where water is outflowed.
b.the fitted parts and connecting pipes also should be cleaned
c.Dredge the connecting pipe with cheered tubeif it is blocked.
d.Dipped into disinfectant after cleaned.
e.Hanged inside of chicken coop.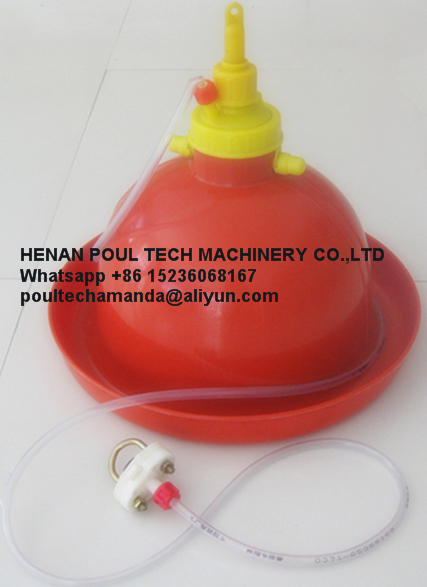 The Height and Water Level of Plasson Drinker:
1.0-7 days putted on grid, eight days later raised as per growing of chickens
2.The upper edge of sink is same or slightly higher than back of chicken.
3.The water level in sink is about 1/3-1/2 of groove depth.
4.Fill half water into balance weight gourd.
Configurations of Plasson Drinker:
1. A plastic drinker is available for 80 broilers.
2. A 34 cm bell drinkers is available for 80-100 chickens.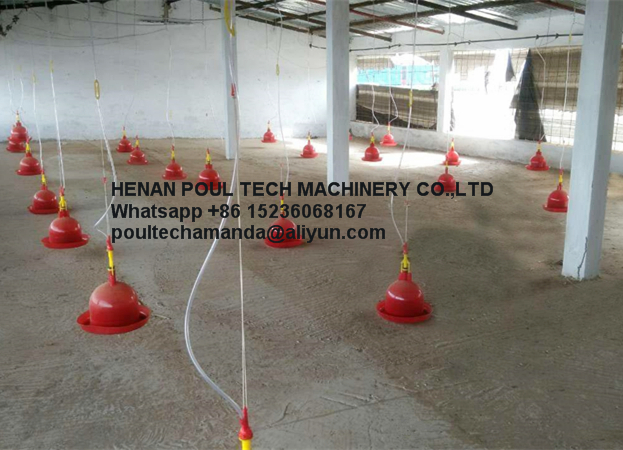 | | |
| --- | --- |
| Email | poultechamanda@aliyun.com |
| Mobile & Whats'app | +86 15236068167 |
| Skype | poultechamanda@outlook.com |
Contact Us
POUL TECH MACHINERY CO.,LTD

Contact

Amanda

Phone

86-152-36068167

Address

Hign Tech Zone,Changchun Road,No.11 Zhengzhou,Henan
Find Similar Products By Category