Shenzhen Isweek Ltd.

China Manufacturer with main products:Gas Sensor ,UV Sensor ,Humidity Sensor ,Pressure Sensor ,Ultrasonic Sensor ,Wind Speed sensor ,Liquid Level Sensor
Product Details
Brand Name:
MaxBotix
Place of Origin:
United States
Model Number:
MB7480
Usage:
Other, Ultrasonic Rangefinder
Theory:
Ultrasonic Sensor
Product Description
MB7480 4-20HR-MaxSonar-WRI
High Performance Ultrasonic Precision Rangefinder

MB7480 4-20HR-MaxSonar-WRI Ultrasonic Rangefinder Product Description
The weather resistant 4-20HR-MaxSonar-WR is a rugged, ultrasonic sensor component module that features the industry standard 4-20mA analog current interface. This outdoor sensor provides very short- to long- distance detection and ranging in a compact, robust PVC housing. This ultrasonic sensor meets the IP67 water intrusion standard and matches standard electrical 3/4-inch PVC pipe fittings.

High-output, acoustic power, combined with continuously variable gain, real‑time background automatic calibration, real‑time waveform signature analysis, and noise rejection algorithms results in virtually noise free distance readings. This holds true even in the presence of many of the various acoustic or electrical noise sources. The 4-20HR-MaxSonar-WR sensors are factory calibrated to match narrow sensor beam patterns and provide reliable long-range detection zones.

The MB7480 4-20HR-MaxSonar-WR sensor has an inverted 4-20mA signal where 20mA signifies that the sensor is reporting the minimum reported distance and 4mA signifies the maximum reported distance for the sensor.

MB7360 is the non 4-20mA version of this sensor line.
MB7389 is the most likely version of this sensor.

Models with additional chemical resistance are available

The F-Option (IP-68) design modification provides our weather resistant sensors with extra protection against corrosive chemical environments. Ask for the F-Option (IP-68) when ordering.

MB7480 4-20HR-MaxSonar-WRI Ultrasonic Rangefinder Product Specifications
• Resolution of ~1.6mm
• Analog current output of 4-20mA
• 7.5Hz read rate
• 42kHz ultrasonic sensor measures distance to objects
• RoHS compliant
• CE compliant
• Internal or external temperature compensation
• Virtually no sensor dead zone, objects closer than 50cm typically range as 50cm
• Maximum Range of 5-meters (196 inches)
• Operates from 10V-32VDC
• <40mA average current requirement
• Small, light‑weight module
• Designed for easy integration into your project or product
• Operational temperature -40°C to +65°C (-40°F to +149°F)
• Real-time automatic calibration (voltage, humidity, and ambient noise)
• Firmware filtering for excellent noise tolerance and clutter rejection
• Weather resistant (IP67), optional chemical resistant F-Option
• Matches standard electrical 3/4-inch PVC pipe fittings for easy mounting (3/4-inch National Pipe Thread Straight)
• Long, narrow detection zone
• Base sensor that is great for application testing
• 20mA is the minimum reported range and 4mA is maximum reported range

MB7480 4-20HR-MaxSonar-WRI Ultrasonic Rangefinder Features & Benefits
• Factory calibrated beam pattern
• Functions well in high noise environments
• Stable and highly reliable range readings
• Excellent noise and clutter rejection
• High acoustic sensitivity
• Low current draw
• High quality, low cost
• Minimal sensor-to-sensor variability

MB7480 4-20HR-MaxSonar-WRI Ultrasonic Rangefinder Applications & Uses
• Automated process control systems
• Weather station monitoring
• Bin level measurement
• Proximity zone detection
• Environments with acoustic and electric noise
• Height monitors
• Auto sizing
• Box dimensions
• People detection
• Robot ranging

MB7480 4-20HR-MaxSonar-WRI Ultrasonic Rangefinder Part Numbers
All part numbers are a combination of a six-character base followed by a dash and a three-digit product code. Please review the following table for more information on the three-digit product code.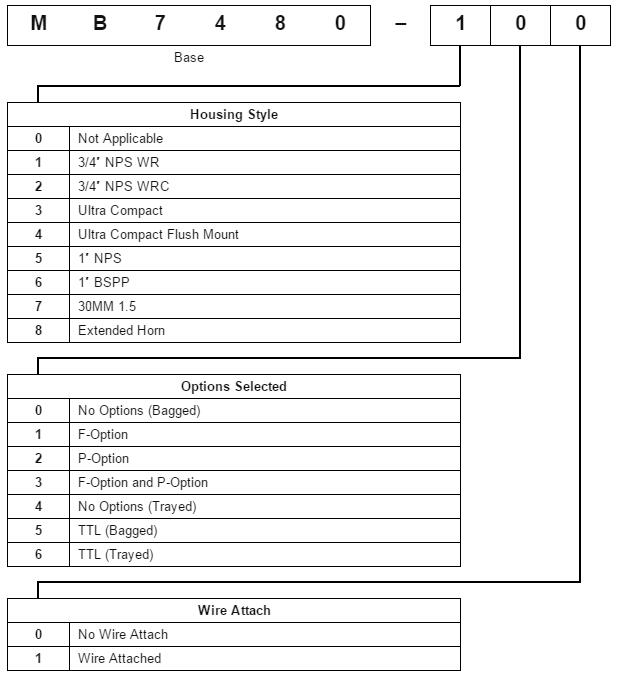 Contact Us
Shenzhen Isweek Ltd.

Contact

Ms Rita yu

Phone

86-755-83289036

Address

16 Floor, Building #3, Zhongke Mansion, Gaoxin South 1st Rd, Hi-Tech Park, Nanshan Shenzhen,Guangdong
Find Similar Products By Category