Product Details
Brand Name:
NATAI
Place of Origin:
China
Model Number:
Natai 04
Application:
water disinfection
Purity:
Compound Powder
MF:
2KHSO5•KHSO4•K2SO4
Other Names:
Potassium Monopersulfate
CAS No.:
70693-62-8
Appearance:
white powder
Grade Standard:
Other, Electron Grade, PCB
Packaging Details
sample 50g/bottle, 1kg/barrel, 15kg/drum
Product Description
Potassium Monopersulfate Used for PCB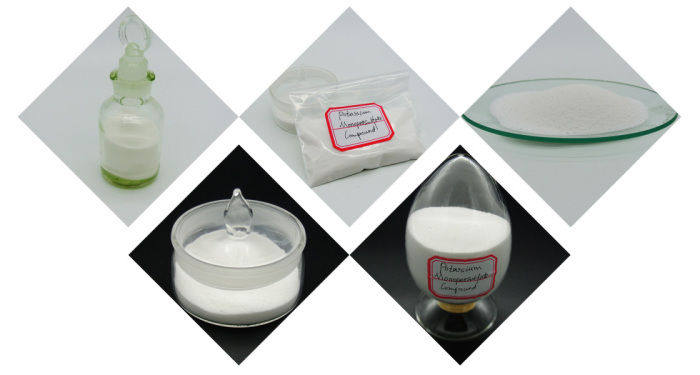 Potassium Monopersulfate compound is a kind of acid oxidant, a free flowing white granularly powder, and soluble in water.
Other Names are Potassium peroxymonosulfate, potassium monopersulfate compound, Potassium hydrogen sulfate, PMPS, KMPS, ect.
Molecular Formula: 2KHSO5•KHSO4•K2SO4
Molecular Weight: 614.7
CAS NO.: 70693-62-8
Packaging: 25Kg/ PP Bag.

Reactive oxygen species %

≥4.5-4.9

Active ingredients(KHSO5

)

%

≥42.8-46

Bulk densityg/ml

0.8-1.2

Moisture %

≤0.15

Through the United States screening #20,%

100

Through the United States screening #200,%

≤8

PH value (25°C) 1% aqueous solution

2.3

PH value (25°C) 3% aqueous solution

2

Solubility(20°C)g/L

256

Stability, % reactive oxygen loss/ month

<1

Standard potential (E°

)

V

-1.44

Thermal conductivity, W/m

0.161


Preparation of Potassium peroxymonosulfate
Potassium peroxymonosulfate preparation process includes three kinds: chlorosulfonic acid method, anodic oxidation method and sulfuric acid method.

Chloroacetic acid: high concentration of hydrogen peroxide (ω> 90%); reaction temperature is too low, energy consumption is large, industrial production must be on the refrigerator can be achieved, and also need to take away from the closed container reaction by-product hydrogen chloride Gas; the reaction of the composite salt mixture obtained after 12 hours centrifugal separation can be obtained, and therefore more difficult to achieve in industrial production.

Anodizing method: to use expensive platinum electrolytic cell, equipment investment, high energy consumption; product was paste, difficult to crystallize. Products at room temperature is very unstable, severe loss of reactive oxygen species, low yield.

We used sulfuric acid method: sulfuric acid and hydrogen peroxide reaction prepared by a sulfuric acid solution, the solution with the basic potassium compounds were prepared by potassium bisulfate complex salt solution, crystallization, filtration and drying, and then mixed with anti-caking agent, the system get the final product.





Application

Application industry

Printed circuit board PCB

Instructions

Copper plate surface cleaning agent, micro-etching agent, black processing aids

Hospitals, homes, poultry and aquaculture disinfectants and water quality improvers, soil improvement and remediation / agricultural disinfectants, tap water pre-oxidation, disinfection and sewage treatment , swimming pools and SPA water treatment, electronics micro etchants, wood cleaning ,Paper industry ,food industry , wool shrinkage treatment, cosmetics and daily chemicals.

Packing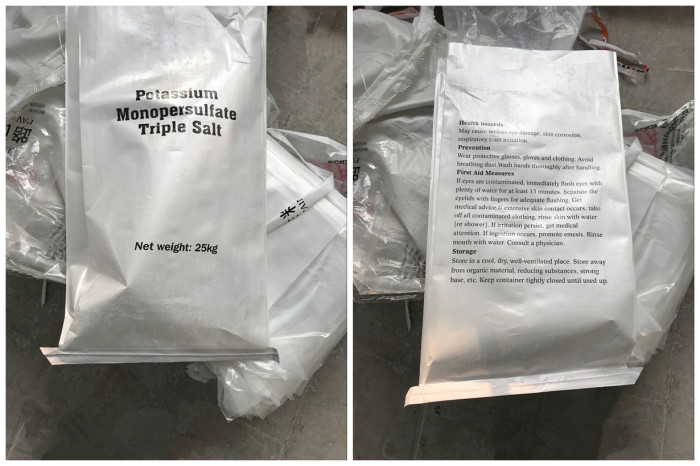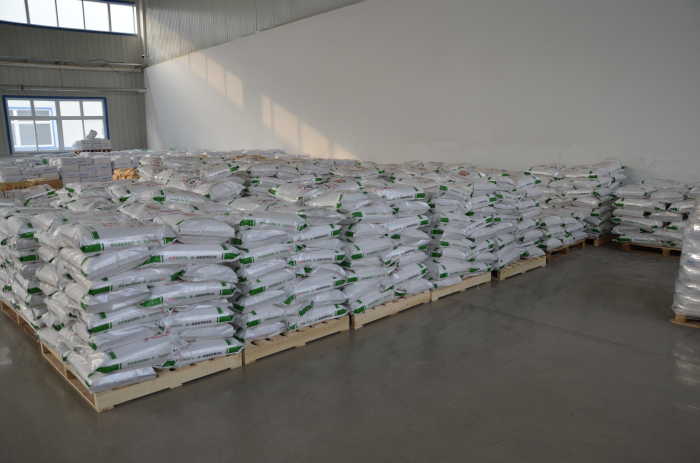 Contact Us
Hebei Natai Chemical Industry Co., Ltd.

Contact

Terry Jia

Phone

86-311-82978611

Address

Circular Chemical Industrial District Shijiazhuang,Hebei
Find Similar Products By Category