LUOYANG MONTON BEARING SCIENCE & TECHNOLOGY CO.,LTD.

China Manufacturer with main products:Angular Contact Ball Bearings ,Thrust Bearing Stacks ,TC Bearings ,High Precision Cross Roller Bearings ,Flexible Bearings ,Non-standard Bearings ,Turbocahger bearings ,Mud motor bearings ,Tungsten Carbide Tile Bearing
SX011860 Crossed Cylindrical Roller Slewing Bearings Industrial Robotic Arm Reducer Drive
USD $1 - $1000 / Piece |Get Latest Price

1 Piece / Pieces

10000 Piece / Pieces per Month

Shanghai or Beijing

T/T L/C D/P D/A MoneyGram Credit Card PayPal Western Union Cash Escrow

15 days
Add To My Cart
Product Details
Brand Name:
Monton
Place of Origin:
China
Model Number:
SX011860
Number of Row:
Single Row
Seals Type:
open or sealed
Precision Rating:
50000r/min
Outside Diameter:
10, 260
Bore Size:
25, 245
Packaging Details
Single packing+wooden case
Product Description
SX011860 Crossed Cylindrical Roller Slewing Bearings Industrial Robotic Arm Reducer Drive
SX011860

Identification number
Main dimensions
shoulder height
Basic load rating(axial)
Basic load rating(radial)
weight
innerring
outer ring
Roller pitch circle diameter dp (mm)
width
Greasing hole
Chamfer
de
Di
Ca
Coa
Cr
Cor
Kg
D
r
KN
KN
KN
KN
d
(mm)
B B1
(min)
(mm)


(mm)
φ


SX011860
300
380
340
38
2.5
2.1
339.2
340.8
243
1070
173
425
12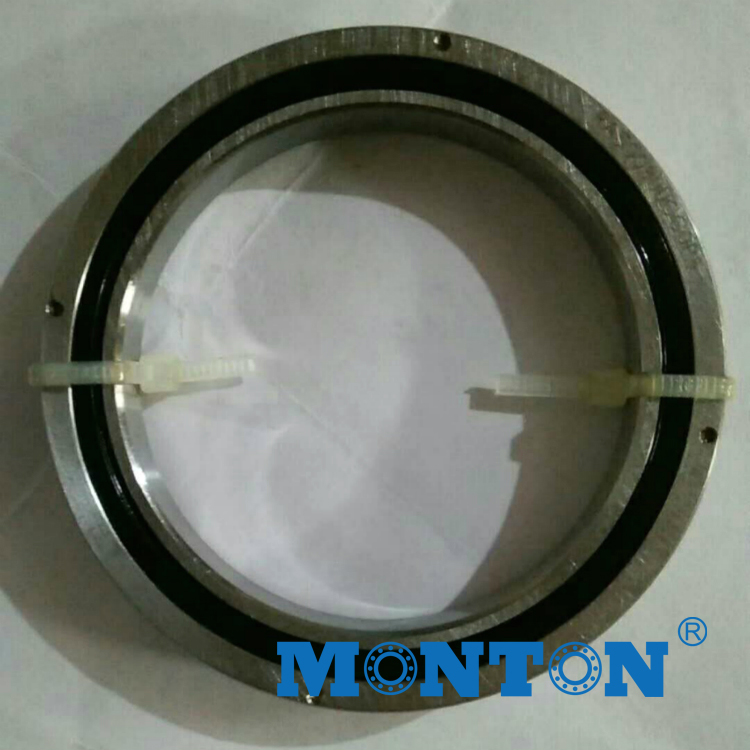 SX series crossed roller bearings is one type of INA crossed roller bearings.
The structure of SX series cross roller bearing is similar to RB series crossed roller bearings, and the outer ring is divided into 2 pieces, with the inner ring rotating, which is connected by three fixed rings. SX series crossed roller bearing is suitable for these parts with high precision of inner ring rotation. Compared with the traditional model, SX series crossed roller bearings' rigidity is increased by 3 or 4 times. The inner ring or outer ring is two separate structures, the clearance of the bearing can be adjusted. Even if the bearing is preloaded, it can also be rotated with high precision, high rigidity, high bearing capacity, small volume, etc.
Product Application:
Industrial Robotic arm, Reducer drive
precision Turntable, NC rotary table
Rotation part of Machine tools
Inspection instrument, Medical equipment
Aviation equipment, Military radar etc
The Brief Description of Cross Roller Bearings:
Their rollers between the inner ring and the outer ring, the interval to intersect at right angles to each other are arranged. They can withstand the load from all directions (eg axial thrust load or momentum, etc.). Because the surface of the roller and the track into a linear contact and therefore, the bearing load and by the possibility of elastic deformation is small. This type of bearings are widely used in industrial automation, such as robots, machine tools and medical facilities, and need high rigidity, high speed close and still ensure accurate the occasion.
Bearing features:
1. High precision: precision at P4, P2.
2. High rigidity: this series bearings are with preload.
3. High load capacity: this series bearings can support axial load, radial load, and tilting load.
4. Small volume: this series bearings can save space for the machine.
Cross Bearing Advantages:
1. with excellent rotational accuracy
2. Installing simplifies operation
3. Bear large axial and radial loads
4.Significant savings in installation space
5. High speed capability
6. Shaft length and reduce processing costs, the geometry of thermal expansion is limited to changes .
7. Nylon spacer, low inertia, low starting torque, easy to control angle indexing
8. Optimization of preload, rigidity, high precision guide rollers running
9. Carburizing steel provides excellent impact resistance and surface abrasion resistance
10. Simple but adequate lubrication
we are a factory to produce crossed roller bearings, high rigidity and accuracy .we have many stock.
INA SX series .
SX011814
SX011818
SX011820
SX011824
SX011828
SX011832
SX011836
SX011840
SX011848
SX011860
SX011868
SX011880
SX0118500
Series Of Cross Roller Bearings:
THK Cross Roller Bearing RB series models :
RB7013 RB8016 RB9016 RB10016 RB10020 RB11012 RB11015 RB11020 RB12016 RB12025 RB13015 RB13025 RB14016 RB14025 RB15013 RB15025 RB15030 RB16025 RB17020 RB18025 RB19025 RB20025 RB20030 RB200 35 RB22025 RB24025 RB25025 RB25030 RB25040 RB30025 RB30035 RB30040 RB35020 RB40035 RB40040 RB45025 RB50025 RB50040 RB50050 RB60040 RB70045 RB80070 RB90070 RB1000110 RB1250110

German cross roller bearings SX Series models :
SX011814 SX011818 SX011820 SX011824 SX011828 SX011832 SX011836 SX011840 SX011848 SX011860 SX011868 SX011860 SX0118/500

German cross roller bearings XSU series models :
XSU080168 XSU080188 XSU080218 XSU080258 XSU080318 XSU080398 XSU140414 XSU140544 XSU140644 XSU140744 XSU140844 XSU140944

THK Cross Roller Bearing RA Series models :
RA10008 RA11008 RA12008 RA13008 RA14008 RA15008 RA16013 RA17013 RA18013 RA19013 RA20013

THK Cross Roller Bearing RE series models:
RE7013 RE8016 RE9016 RE10016 RE10020 RE11012 RE11015 RE11020 RE12016 RE12025 RE13015 RE13025 RE14016 RE14025 RE15013 RE15025 RE15030 RE16025 RE17020 RE18025 RE19025 RE20025 RE20030 RE20035 RE22025 RE24025 RE25025 RE25030 RE25040 RE30025 RE30035 RE30040 RE35020 RE35025 RE40035 RE40040 RE45025 RE50025 RE50040 RE50050 RE60040
THK Cross Roller Bearing RU series models:
RU124G RU148G RU178G RU228 RU297 RU445 RU228X RU297X RU445X RU228G RU297G RU445G

IKO Crossed Roller Bearing CRB series models :
CRB8016 CRB9016 CRB10016 CRB10020 CRB11012 CRB11015 CRB11020 CRB12016 CRB12025 CRB13015 CRB13025 CRB14016 CRB14025 CRB15013 CRB15025 CRB15030 CRB16025 CRB17020 CRB18025 CRB19025 CRB20025 CRB20030 CRB20035 CRB22025 CRB24025 CRB25025 CRB25030 CRB25040 CRB30025 CRB30035 CRB30040 CRB35020 CRB40035 CRB40040 CRB40070 CRB45025 CRB50025 CRB50040 CRB50050 CRB50070 CRB60040 CRB60070 CRB600120 CRB70045 CRB70070 CRB700150 CRB80070 CRB800100

Crossed roller bearings IKO CRBC series models:
CRBC8016 CRBC9016 CRBC10020 CRBC11020 CRBC11020 CRBC12025 CRBC13025 CRBC14025 CRBC15025 CRBC15030 CRBC20025 CRBC20030 CRBC20035 CRBC25025 CRBC25030 CRBC25040 CRBC30025 CRBC30035 CRBC30040 CRBC40035 CRBC40040 CRBC40070 CRBC50040 CRBC50050 CRBC50070 CRBC60040 CRBC60070 CRBC600120 CRBC70045 CRBC70070 CRBC700150 CRBC80070 CRBC800100

IKO Crossed Roller Bearings CRBH series models:
CRBH10020A CRBH11020A CRBH12025A CRBH13025A CRBH14025A CRBH15025A CRBH20025A CRBH25025A
Contact Us
LUOYANG MONTON BEARING SCIENCE & TECHNOLOGY CO.,LTD.

Contact

Dave-Lee

Phone

86-13213639372
Find Similar Products By Category