Better Screw Co.

China Manufacturer with main products:round helical piles ,square shaft helical piles ,steel push piers ,helical tie backs
Power driven helical screw piles for building
USD $5.5 - $42.7 / Piece |Get Latest Price

1000 Piece / Pieces

5000000 Piece / Pieces per Month

QINGDAO

T/T

30 days
Add To My Cart
Product Details
| | | | | | |
| --- | --- | --- | --- | --- | --- |
| Brand Name: | BS | Place of Origin: | China | Model Number: | BS-002 |
| Material: | Steel | Diameter: | customized | Length: | 3ft,5ft,8ft,10ft or customized |
| Type: | Lifting Anchor | Standard: | Other, ASTM A36 | Capacity: | customized |
Packaging Details
pallet or as your requirement for Power driven helical screw piles for building
Product Description
Power driven helical screw piles for building


Round shaft helical piers
*Shaft material: Seamless high tensile pipe, conforms to ASTM A500 GRADE B
*Helices material: ASTM A36 Hot rolled plate
*Corrosion protection conform to ASTM A153 standard for hot dipped zinc coating
*Round Shank Anchors are Hot Dip Galvanized to meet ASTM Specification A153.
*Leading edge of Helices beveled 45 degrees
*Greater Section Modulus Strength to resist Twisting and Deflection
*Greater Load Capacities
Specification

shaft size(inch)

Wall Thick(inch)

Helix Size (inch)

Lead Length (ft)

Helix Size (inch)

Extension Length(ft)

2.875 OD.

0.262

3/8 or 1/2

3ft/5ft/7ft/10ft

8/10/12/14

3ft/5ft/7ft/10ft

3.00 OD.

0.238

3/8 or 1/2

3ft/5ft/7ft/10ft

8/10/12/14

3ft/5ft/7ft/10ft

3.50 OD.

0.254/0.300

3/8 or 1/2

3ft/5ft/7ft/10ft

8/10/12/14

3ft/5ft/7ft/10ft

4.50 OD.

0.290/0.337

3/8 or 1/2

5ft/7ft/10ft/12ft

8/10/12/14

3ft/5ft/7ft/10ft

5.50 OD.

0.362

3/8 or 1/2

5ft/7ft/10ft/12ft

8/10/12/14

3ft/5ft/7ft/10ft

6.625 OD.

0.562

3/8 or 1/2

5ft/7ft/10ft/12ft

8/10/12/14

3ft/5ft/7ft/10ft

note:Other sizes are available upon request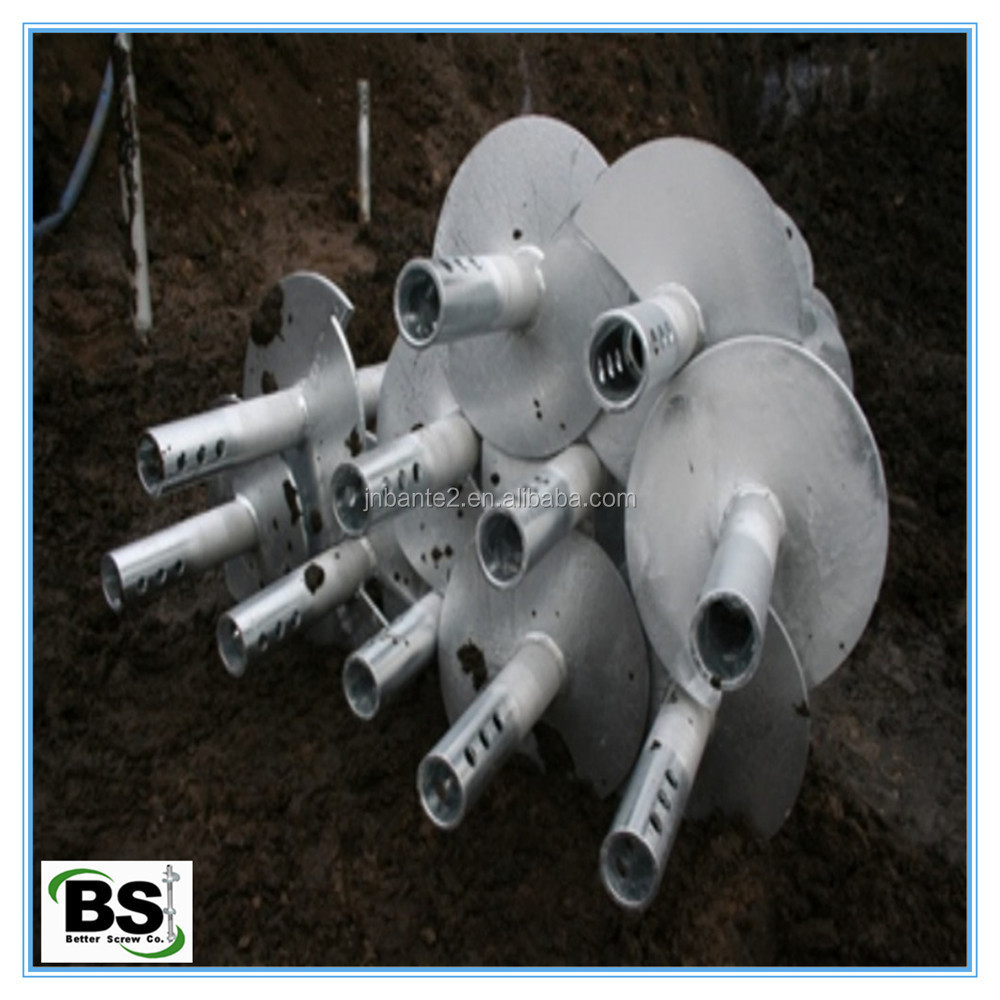 Square Bar shaft helical pier
*Bar Material: 40Cr or 45# steel, round corner 5mm radius
*Helix Plate material conforms to ASTM A36 hot rolled plate
*helices thickness are available in 3/8" and 1/2" inch
*All helix leading edges sharpened and rock cut and 45 degrees.
*Corrosion protection to conform to ASTM A153 standard for hot dipped zinc coating
*A better conventional solid steel extra high strength helical screw pile
*Welded coupling for greater strength. Eliminates shaft heat damage caused by upset coupling process
Specification

size

Lead Length (ft)

Helix Size (inch)

Extension Length(ft)

1-1/2"

3ft/5ft/7ft

8/10/12/14

3ft/5ft/7ft/10ft

1-3/4"

3ft/5ft/7ft

8/10/12/14

3ft/5ft/7ft/10ft

2"

3ft/5ft/7ft/10ft

8/10/12/15

3ft/5ft/7ft/10ft

note:Other sizes are available upon request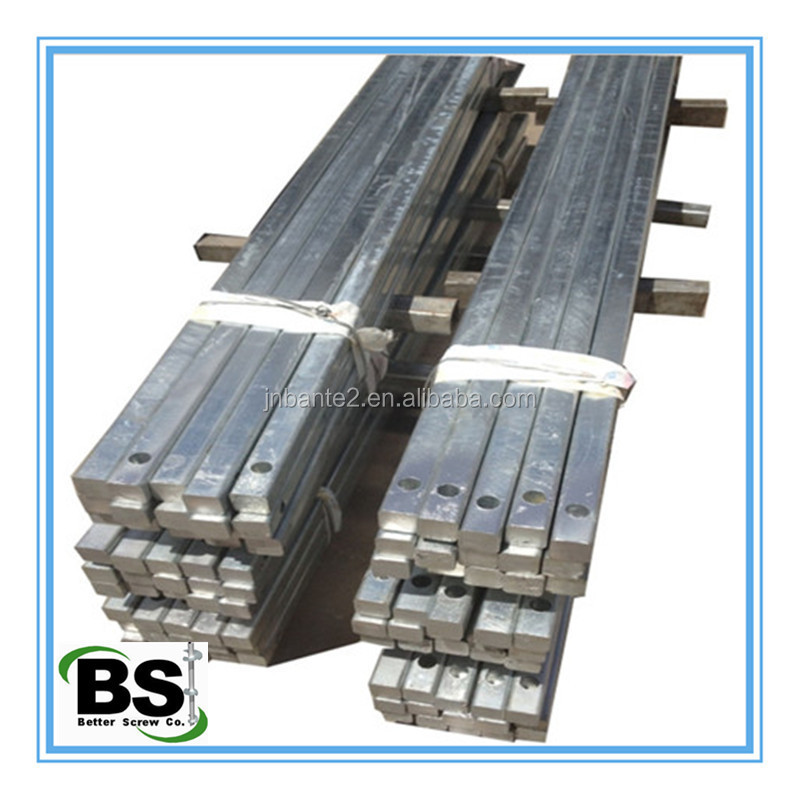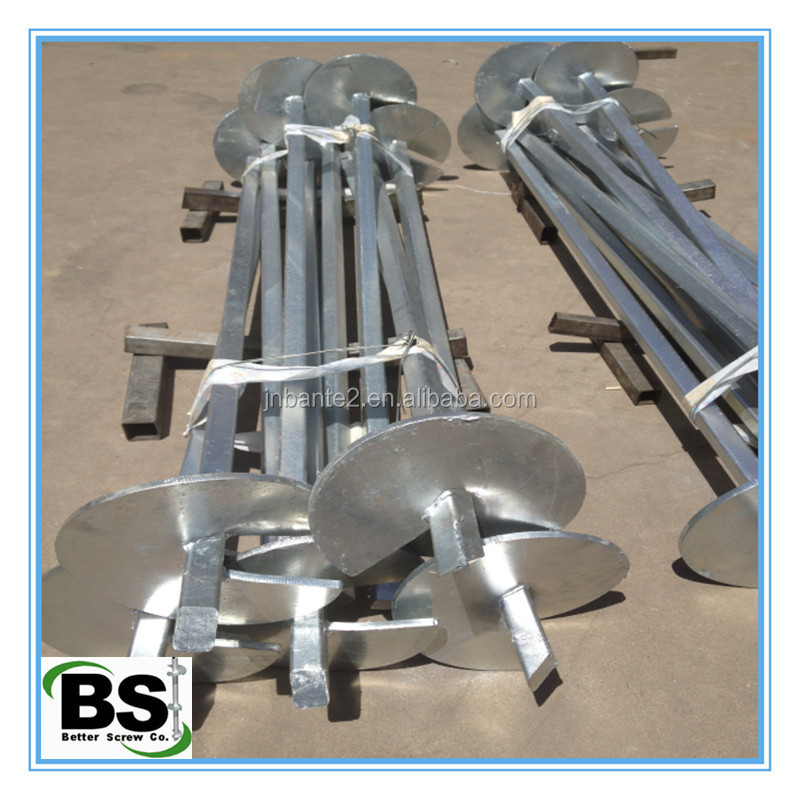 Square Tubular shaft helical pier
*Available in 2", 2.5", 3" or 4" square tube
*helices thickness are available in 3/8" and 1/2" inch
*Helices material conforms to ASTM A36 hot rolled plate
*All helix leading edges sharpened and rock cut and 45 degrees.
*Corrosion protection to conform to ASTM A153 standard for hot dipped zinc coating
*Square Tube eliminated over torquing concerns associated with pipe style helicals
*Efficient torque transfer
*Clear visual indicator of torsional deflection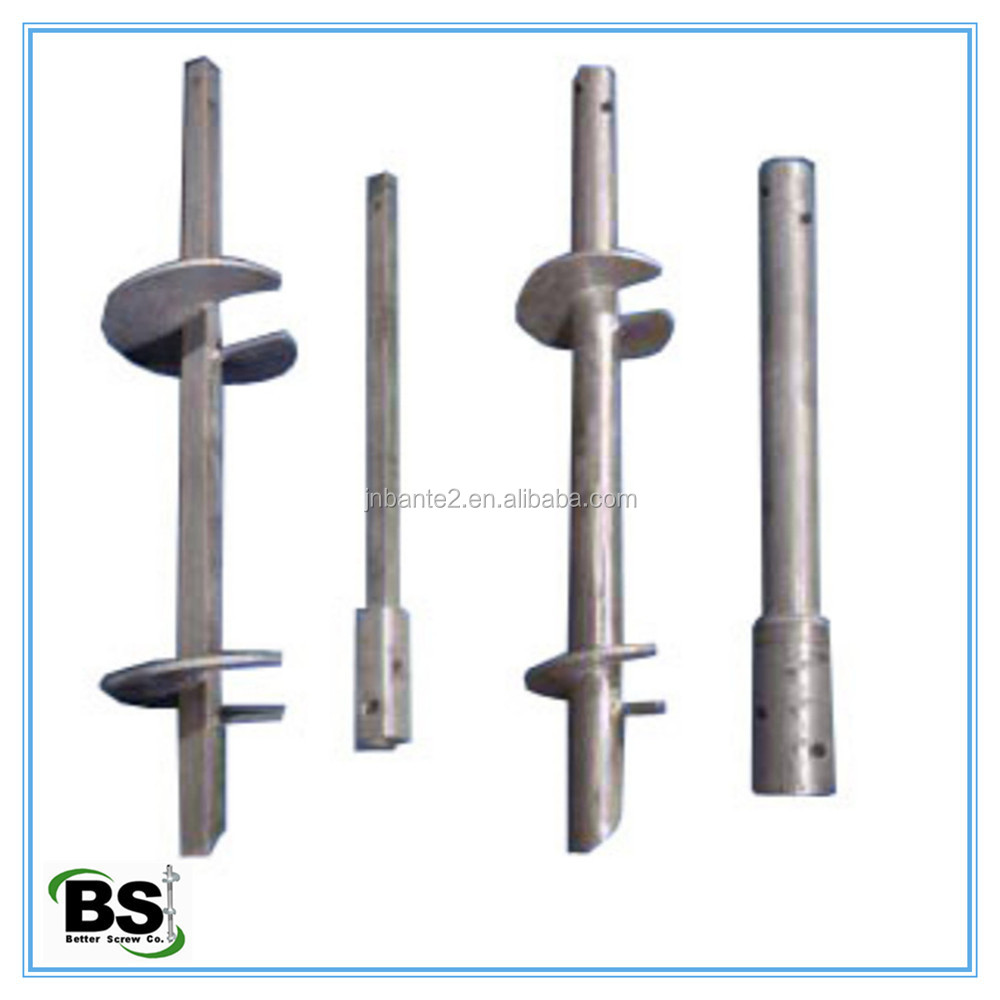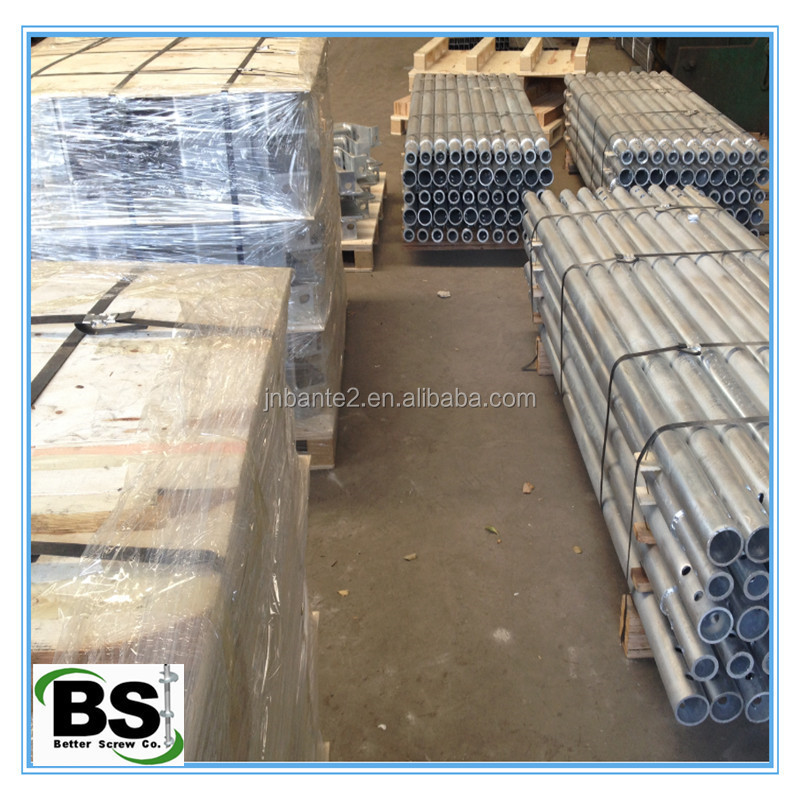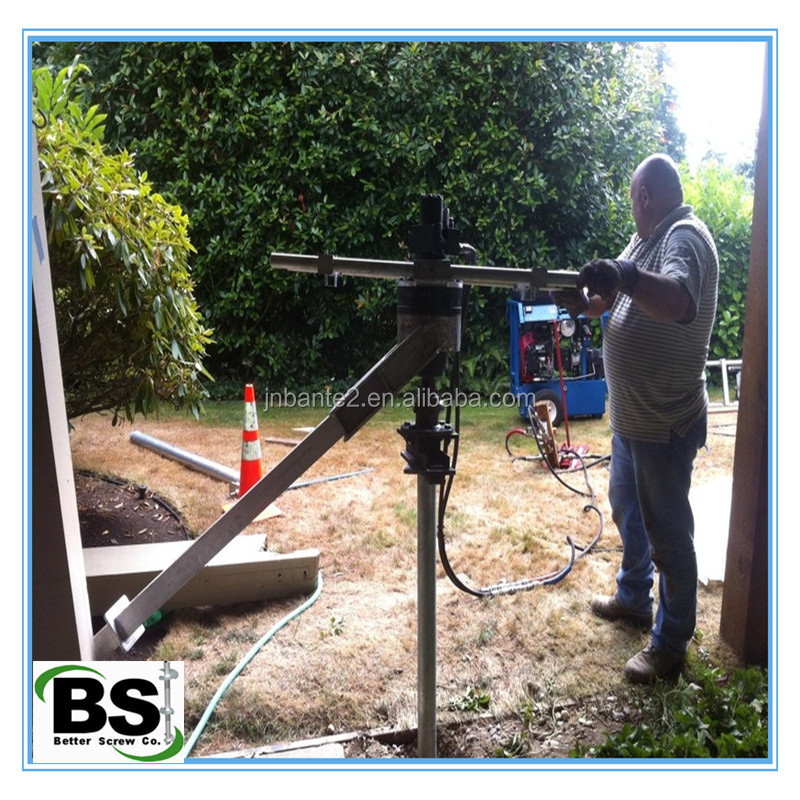 1. Professional staffs reply your inquiry in 24 working hours.
2. Professional factory : We are the first class helical screws products supplier for Residential, Commercial and Industrial Projects as well as Underpinning and Anchoring.
3. Good quality, competitive pricing and timely service.

4. OEM and ODM service are available here.
5. Sample: Available.
Power driven helical screw piles for building
Contact Us
Better Screw Co.

Contact

Michelle

Phone

86-531-58775516