Shaanxi Haokang Bio-tech Co., Ltd

China Manufacturer with main products:Plant Extract ,Herb Extract ,Botanical Extract ,Fruit&Vegetable Juice Powder
Product Details
| | | | |
| --- | --- | --- | --- |
| Brand Name: | HK | Place of Origin: | China |
Packaging Details
Broccoli Juice Powder Broccoli Juice Powder from factory Specifications Product Name: Broccoli Juice Powder Product Description: Adopt spray drying technology. the broccoli retains its original flavor and contains a variety of vitamins and acids,Powdery, good fluidity, good taste, easy to dissolve, easy to preserve. Appearance: Powder is loose, no caking, no impurities Color: It has the inherent color and uniformity Solubility> 99% Particle Size: 80-120 Mesh or Customize Moisture
Product Description
Broccoli Juice Powder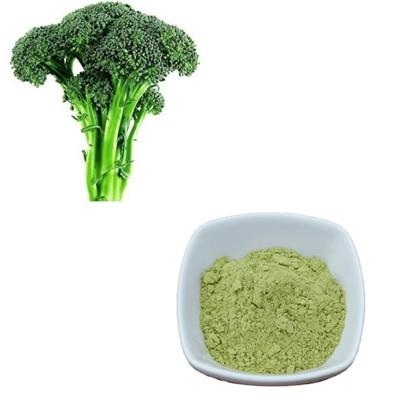 Specifications
Product Name: Broccoli Juice Powder
Product Description: Adopt spray drying technology. the broccoli retains its original flavor and contains a variety of vitamins and acids,Powdery, good fluidity, good taste, easy to dissolve, easy to preserve.
Appearance: Powder is loose, no caking, no impurities
Color: It has the inherent color and uniformity
Solubility> 99%
Particle Size: 80-120 Mesh or Customize
Moisture<6%
Total number of colonies<1000
Salmonella: No
Escherichia Coli: None

Functions&Benefits
1.Broccoli can effectively reduce the incidence of breast cancer, rectal cancer, gastric cancer, heart disease and stroke, as well as bactericidal and anti-infective effects.
2.Broccoli juice is probably the most significant anti-cancer effect. Broccoli contains more vitamin C than Chinese cabbage, tomato and celery, especially in the prevention and treatment of gastric cancer and breast cancer.
3.the most important component of broccoli juice to prevent cancer is sulforaphane, which can improve the activity of carcinogen detoxification enzymes and help cancer cells to repair into normal cells.
Addition to anti-cancer, broccoli juice is also rich in ascorbic acid, which can enhance the detoxification ability of the liver and enhance the immunity of the body.

Application
Medical and health products, instant food, puffed food, condiments, middle-aged and old food, baked food, leisure food, cold food and cold drinks, etc.

Packaging
Standard Packed in Fiber Drums
G.W: 28KGS/Drum; N.W: 25KG/Drum
Drum Size & Volume: I.D.35cm x H51cm; 0.075 Cubic Meter/Drum
or
20kgs/Aluminum Foil Bag; 2 Aluminum Foil Bags/Carton

Storage: Keep in a cool, dry place, away from light and high temperature.


Shelf life: 2 Years

above information from public literature is not examined by the Food and Drug Administration,only for reference.
Contact Us
Shaanxi Haokang Bio-tech Co., Ltd

Contact

Amber Zheng
Find Similar Products By Category