Product Details
Brand Name:
GUANFENG
Place of Origin:
Zhejiang, China
Packaging Details
Seaworthy packing with steel protection frame for big machinery, wooden or plywood carton for accessories and fittings.">pepper processing equipment
Seaworthy packing with steel protection frame for big machinery, wooden or plywood carton for accessories and fittings.
Product Description
Main Application: This processing line is mainly used for pretreatment processing for green pepper and similar agri-food products;
Capacity: from 500-3000kg/hr for fresh materials;
Main processing flow:
The processing have the complete processing flows include:
1. washing --> 2. blanching --> 3. cooling --> 4. soaking --> 5. drying.
Description:
Washing: bubble washing with high pressure spray.
Blanching: belt type continuous blanching in boiling water.
Cooling: with bubble water and spray.
Main equipments:
#

Equipment Name

Description

Qty.

1

Feeding conveyor

Loading peppers to the processing line

2

Bubble washing machine

Bubble washing and cleaning

1

3

Belt blancher

Blanching or pre-cooking

1

4

Water chilling machine

Cooling after blanching

1

5

Elevating conveyor

Elevating and feeding the soaking tank

1

6

Soaking tank with elevating conveying belt

Soaking to soften the skin

2

7

Vibration draining machine

Remove surface water before drying

1

8

Stainless steel material trolleys

Transporation of pepper

5

9

GTJ Bin type drying machine

Hot air dehydration

10
Services provided by us:
The following equipment and services provided by supplier:
1) Working flow layout of equipment supplied by our company
2) Plant layout of equipment supplied by our company
3) Layout drawing for related pipe lines
4) Electrical wires from control cabinet to connect with equipment
5) Packing for equipment and domestic transportation in China
6) Equipment and guide for installation and commissioning
7) Operation manual of equipment
8) Training for operation personnel
9) Consultant for processing technology
Seaworthy packing with steel frame for big machienry. Wooden or plywood carton packing for accessories and fittings.
1) Food processing technology consultency;
2) Working flow layout design;
3) Plant layout for processing line equipments;
4) Onsite guide of installation and commissioning;
5) Training for local operators;
6) After sales technical support.
GUANFENG MACHINERY is located in the Yangtze River delta, Shangyu city, Zhejiang province with the most convenient transportation and prosperous economic in China, 1 hour by car to Hangzhou or Ningbo and 2 hours from Shanghai.
Our company was established by a group of experienced and dedicated engineers who are excited and specialized in finding the best solutions to improve the food processing equipments therefore bring value to the food processors and make better quality food products. Based on the market demands and our technology background, we focus on the developing and manufacturing equipments for IQF frozen food industry, vegetables and fruits dehydration, Freeze drying (FD), and food processing lines for various vegetables, fruits and seafood industry.
We value "honesty, innovative and quality" because we know that we are not only supplying equipment to our clients but the partners to help our clients to get a better result. Keeping this in our mind, we not only make high quality food processing equipment, but also help the clients to figure out the optimum processing work flows, make amendments according to client's specific needs, training staffs for the user of our equipment and even more, because we believe that our users or clients' success is the foundation of ours.
Are you looking for the equipment for your next project? Why not just send us an email!
Credit member
Zhejiang Guanfeng Food Machinery Co., Ltd.
GuanFeng Food Machinery Co., Ltd. is located in the most convenient transportation and prosperous economic of Yangtze River Delta, Shangyu City, Zhejiang Province.Throughout Hangzhou-Ningbo (G92) expressway, Changshu-Taizhou (G15w) expressway, Shaoxing-Zhuji (S24) expressway, 104, 329 national road lines as well as HangYong high speed railway, we enjoy convenient transportation. Moreover it is less than 80km away from Hangzhou and Ningbo airport.Our company is specialized in designing and manufacturing quick-frozen food equipment, hot air drying equipment, vacuum freeze drying machine, fruit and vegetable processing equipment, air cooler used in cold room, evaporative condenser and cold room. Our products are widely used in the deep processing of aquatic products, fruits and vegetables, meat and poultry, cooked wheaten food and prepared food, etc.We uphold "honesty, pioneering and innovative" business philosophy and adhere to the "professional to create the first" professional path. Absorbing advanced technology and new craft, we also provide process designing-equipment manufacturing- installation and debugging-technic training, etc. We will devote to changing our country's current situation of food processing, and develop the food deep processing. We would like to exchange and cooperate with the food research institutes, engineering and technical personnel and processing enterprises all over the world.
View more
Contact Us
Zhejiang Guanfeng Food Machinery Co., Ltd.
Find Similar Products By Category
Please complete the file below, we will email the catalog to you
Send
Send Successfully !
We will contact you as soon as possible!
Continue View
Please Enter your Email Address
Please enter the content for your inquiry.
We will find the most reliable suppliers for you according to your description.
Send Now
INQUIRY ABOUT Food machinery black pepper processing equipment for vegetable dehydration lineZhejiang Guanfeng Food Machinery Co., Ltd.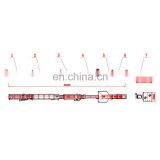 $138,000 - $148,000 / Set
1 Sets
pepper processing line
Free spare parts, Engineers available to service machinery overseas
Please Enter your Email Address
No typing, "Quick question" Help you!
Please enter the content for your inquiry.
Please reply me within 24 hours.
Yes! I would like verified suppliers matching service!
Send Now
Be contacted easily by perfecting the information.
Finish
Successfully!
Thank you for your enquiry and you will be contacted soon.
Continue View