Product Details
Brand Name:
HONGJIN
Place of Origin:
China
Model Number:
HJ-895
Type:
Ultrasonic Sterilization Equipments
Product Description
UV sterilization machine can be used to sterilize the air and objects. Widely used in hospitals, food, tea and food and beverage packaging equipment, food factory, cosmetics factory, beverage factory, milk factory, brewery, bakery and freezer. And can prolong the shelf life of the products.
Working Principle:
This machine adopts Teflon mesh belt, the product can be directly on the mesh belt for sterilization, sterilization time to enter the regional network with the best about 1-3 minutes, thorough sterilization, sterilization effect, convenient operation and ideal practical effect.
Function:
1. With 16 sets of ultraviolet UV sterilization special tubes, sterilization in all directions.Uniform distribution in the furnace up and down the five, three, around each sterilization no dead Angle of 360 degrees all powerful antiseptic effect.
2. There a UV reflectors (inner box mirror stainless steel plate), the product through the sterilization, can greatly improve the utilization rate of up to 90% of UV light.
3. Each group germicidal lamp can separate control, increase UV ultraviolet lamp adjustable Angle adjusting device, peak value of 254 mm, sterilization effect is the best product to stay under the sterilization lamp 1-3 minutes.
4. Equipped with automatic timer, may at any time to monitor the use time of the tubes, convenient lamp replacement.
5.This UV food sterilizer is a closed cabinet device made up of sterilizer drum, electronic control and cabinet body.
6.UV nuts sterilizing machine is made of excellent stainless steel which has a high reflection rate of the UV and produces no pollution during its use, complying with the sanitation requirements of food industry.
7. Inside the drum are UV lamp and quartz glass tube.
8.Based on the latest technology, to create a high effective disinfection unit for drinking water, we developed UIV series led uv sterilizer.
9. Wide capacity for reaching different applications in industry and marine fields.
Credit member
Hongjing Test Instrument Co., Ltd.
Hongjing Inspection Instrument Co., Ltd. is a high-tech enterprise which specializes in producing, developing and simulating various kinds of environmental testing equipment, mechanical testing equipment, luggage testing equipment, electronic and electrical testing equipment, wire and cable testing equipment and large-scale non-standard testing equipment design and automatic control.
View more
Contact Us
Hongjing Test Instrument Co., Ltd.
Find Similar Products By Category
Please complete the file below, we will email the catalog to you
Send
Send Successfully !
We will contact you as soon as possible!
Continue View
Please Enter your Email Address
Please enter the content for your inquiry.
We will find the most reliable suppliers for you according to your description.
Send Now
INQUIRY ABOUT Hot sell UV fruit juice tomato sauce milk sterilization dental cabinet/hot cold towel cabinetHongjing Test Instrument Co., Ltd.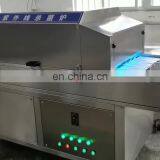 $1,900 - $3,500 / Set
1 Sets
HONGJIN
China
Please Enter your Email Address
No typing, "Quick question" Help you!
Please enter the content for your inquiry.
Please reply me within 24 hours.
Yes! I would like verified suppliers matching service!
Send Now
Be contacted easily by perfecting the information.
Finish
Successfully!
Thank you for your enquiry and you will be contacted soon.
Continue View