Product Details
Condition:
New
Fuel Type:
Petrol / Gasonline
Hull Material:
Aluminum
Length (m):
3 Meter
Passenger Capacity:
< 10 People
Packaging Details
Bulk or standard export packing
Product Description
3 Seat River Rivets 10 Foot Aluminum Boat
Features:
Recyclable, durability, long life
Impact resistance, fast repair
Light weight, high speed
Personalized, a wide variety, making different waters
Parameters:
Type

Volume (m3)

Gross Weight (kg)

Load (Kg)

Power (Hp)

1.2mm thickness bottom welding combined rivets ship's rail and seat

B1211-8

2.4 * 1.1 * 0.3

29

120

5P

B1211-10

3.02 * 1.1 * 0.3

39

168

5P

B1211-11

3.3 * 1.1 * 0.3

41

170

5P

B1211-12

3.61 * 1.1 * 0.3

43

172

10P

B1211-13

3.96 * 1.1 * 0.3

45

174

15P

B1212-10

3.02 * 1.2 * 0.3

57

180

5P

B1212-11

3.3 * 1.2 * 0.38

61

190

5P

B1212-12

3.61 * 1.2 * 0.38

63

192

10P

B1212-13

3.96 * 1.2 * 0.38

65

259

15P
Overview:
Bochi Have many global clients, we offer professional service to them. With the aim of "to establish a close strategic partnership and develop together with customers", we will work whole-heartedly to improve our products and service. We will also pledge to work jointly with business partners to elevate our cooperation to a higher level and share success together with our customers. We are looking forward to establishing relationships with you in the near future.
BOCHI CORPORTATION is the largest supplier of marine equipments and automobile parts in southwest China. Located in Chongqing , we can provide customers with best quality and service in our range.
Class Certificate for Marine Equipments:
We can custom design boats and yacht to suit customers specification and preference. We also can do bulk orders if need be.
We build all types of composite boats from small center console fishing boats, to patrol and transportation boats, to pleasure yachts, and large luxury 5 Star cruisers.
Our smaller boats with sizes 17, 19, 21, 24, 27, 30, 33, 35 can fit in 20' to 40' high cube containers for ease of transportation around the world.
Credit member
we offer products at reasonable price and good quality.
View more
Contact Us
Bochi Corporation
Find Similar Products By Category
Please complete the file below, we will email the catalog to you
Send
Send Successfully !
We will contact you as soon as possible!
Continue View
Please Enter your Email Address
Please enter the content for your inquiry.
We will find the most reliable suppliers for you according to your description.
Send Now
INQUIRY ABOUT 3 Seat River Rivets 10 Foot Aluminum BoatBochi Corporation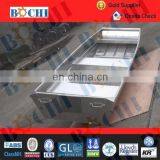 $1,650 - $3,650 / Set
1 Sets
New
Petrol / Gasonline
Please Enter your Email Address
No typing, "Quick question" Help you!
Please enter the content for your inquiry.
Please reply me within 24 hours.
Yes! I would like verified suppliers matching service!
Send Now
Be contacted easily by perfecting the information.
Finish
Successfully!
Thank you for your enquiry and you will be contacted soon.
Continue View