Home > Products > Kids dress > Korean version of corduroy strap dress cotton children's wild vest skirt spring and autumn girls dress
Product Details
Brand Name:
De-lovely
Place of Origin:
Guangdong, China
Model Number:
G018022
Material:
100% Cotton
Supply Type:
In-Stock Items
Available Quantity:
100
Packaging Details
Packaging&Shipping Packaging:poly bag & paper box Shipping: 15~30days.
Product Description
This fabric is 100% cotton, first class quality fabric, graceful color

*Based on the classic basic models, the product combines natural, harmonious, lively, simple and comfortable fashion models to create a relaxed casual style.

DE-LOVELY Clothing Co., Ltd. of Dongguan City
DE-LOVELY Brand Children's Wear: Birthplace: Humen, China Founder: Group of 8090s with product ideas Product Type: 0-4 years old mainly knitted fabrics, allowing Chinese mothers to rest assured that the preferred quality children's clothing brand. Design style: simple, comfortable, Europe and the United States and international main features: to dress as a principle, in line with the human body structure. International fashion elements, environmental protection and comfort, noble and natural, simple and practical, close to life, do not blindly pursue the popular but always fashionable.

Credit member
Shandong Qingui International Trading Co., Ltd.
We have cooperated with factories of children's clothing and other products, and you can buy all products from us without having to buy from many factories. We can also accept customization, welcome to consult and look forward to cooperating with you, thank you.
View more
Contact Us
Shandong Qingui International Trading Co., Ltd.
Find Similar Products By Category
Please complete the file below, we will email the catalog to you
Send
Send Successfully !
We will contact you as soon as possible!
Continue View
Please Enter your Email Address
Please enter the content for your inquiry.
We will find the most reliable suppliers for you according to your description.
Send Now
INQUIRY ABOUT Korean version of corduroy strap dress cotton children's wild vest skirt spring and autumn girls dressShandong Qingui International Trading Co., Ltd.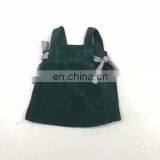 $5.85 - $6.35 / Piece
5 Pieces
G018022
100% Cotton
Please Enter your Email Address
No typing, "Quick question" Help you!
Please enter the content for your inquiry.
Please reply me within 24 hours.
Yes! I would like verified suppliers matching service!
Send Now
Be contacted easily by perfecting the information.
Finish
Successfully!
Thank you for your enquiry and you will be contacted soon.
Continue View