Product Details
Brand Name:
Hensgrand
Place of Origin:
Shandong, China
Model Number:
HF
Power:
Electronic
Packaging Details
Standard exporting case
Product Description
Digital Force Gauge Electronic Dynamometer Tension Meter
Description:
The force gauge has advantages of high precision, easy operation and carry. What's more, it has kinds of testing modes, convenience for conner and it can store and input data to computer for statistical analysis as well as constitutes testers with different functions, combination with test-beds and clamp. Users can input local acceleration of gravity value to make test more precise.
Functional characteristics:
1. High precision and high resolution.
2. Five testing modes and three display methods for selection--enhance testing efficiency to the maximum extent
3. N (Newton), kg (Kilogram) and lb (Pound) three measuring units for selection and conversion.
4. Setting function of gravity acceleration---User can input at your option the accurate value of gravity acceleration at the using place so as to make the testing and unit conversion be more accurate.
5. Function of peak value maintaining. Maintain the display of peak value until manual zero clearing
6.Automatic peak function. Maintain the display of peak value for 2 seconds and then release automatically.
7.Max and min and comparison value can be set for statistic analysis. The buzzer will alarm if exceeding comparison value.
8. Data storage function. 896 testing values can be stored.
9.Data output function. The data can be input into computer through data line for various analyses.
10. Environmental protection. The device will automatically stop if no operation within 10 minutes.
11. High quality chargeable power supply. The charging voltage is available from 100V to 240V, which can accommodate most areas in domestic and at abroad.
12. 2 sets mounting dimensions, it is applied for most testing platforms domestically and easy for users to install it to platform.
13. Special testing function of make-break ability of switch contact to make the make
break testing be more accurate.
14. 6 digits large screen display.
15.Synchronous measuring software can connect computer measuring, the computer display measuring graph and the detailed testing records,and can preserve, print ,make analysis,input speed, area, displacement, pressure. ( chosen function details see CD data )
16. Contact control signal output setting comparative value,when the Measuring value is over comparative value, output signal control circuit Breaker's make-and break, thus realize the function of stop electromotor, And control automatically; it is also can be used for realize other control Functions.
Technical parameters:
Model specification

HF-1

HF-2

HF-5

HF-

10

HF-

20

HF-

50

HF-

100

HF-

200

HF-

500

HF-

1000

Peak load value

N

1

2

5

10

20

50

100

200

500

1000

kg

0.1

0.2

0.5

1

2

5

10

20

50

100

lbs

0.22

0.44

1.1

2.2

4.4

11

22

44

110

220

load division value

N

0.001

0.001

0.001

0.01

0.01

0.01

0.1

0.1

0.1

1

kg

0.0001

0.0001

0.0001

0.001

0.001

0.001

0.01

0.01

0.01

0.1

lbs

0.0001

0.0001

0.0001

0.001

0.001

0.001

0.01

0.01

0.01

0.1

Indication error

0.50%

Unit

N / kg / lbs

Data interface

Rs232 nine-hole socket

Power

rechargeable batteries, charger(charging voltage 100V-240V)

Sensor structure

S-tye sensor with high precision (inner sensor)

Ambient temperature

5° C~35° C

Tansport temperature

-10° C~60° C

Relative humidity

15%~80%RH

Working conditions

No hypocenter and corrosive medium

Gross weight

~2000g

Size

273 x 182 x70 mm
1) Q:Are your company a trading one or a factory?
A:Factory + trade (integration),More than 20 years focusing on test instruments field,6 years exporting experience.
2) Q:After an order is placed, when to deliver?
A:Generally about 10-25days, If we have inventory, we can arrange shipment within 3 days.
Please be aware that our production lead times depend on specific items and item quantities.
3) Q:What about the warranty with after - sales services?
A:The testing machine is guaranteed for 16 months by HST,we can help you to repair
your problem controller freely,even it's not from our factory. After the warranty, the professional after-sale service team will provide perfect technical support and help guests solve problems encountered while using our product, handles guest
problems and complaints in a professional and timely.
4) Q:What about the product' services and quality?
A:Each instruments must be carried out 100% quality examination and test when shipping and delivery goods. Product use training, each of our product provide video training to show you how to install & operate. We can arrange engineer to train the operation of equipment to customer's company when you need. Products are widely recognized and trusted by users.
Contact Us
Jinan Hensgrand Instrument Co., Ltd.
Find Similar Products By Category
Please complete the file below, we will email the catalog to you
Send
Send Successfully !
We will contact you as soon as possible!
Continue View
Please Enter your Email Address
Please enter the content for your inquiry.
We will find the most reliable suppliers for you according to your description.
Send Now
INQUIRY ABOUT Digital Tension Meter / Force Gauge / DynamometerJinan Hensgrand Instrument Co., Ltd.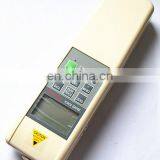 $150 - $900 / Set
1 Sets
Hensgrand
Shandong, China
Please Enter your Email Address
No typing, "Quick question" Help you!
Please enter the content for your inquiry.
Please reply me within 24 hours.
Yes! I would like verified suppliers matching service!
Send Now
Be contacted easily by perfecting the information.
Finish
Successfully!
Thank you for your enquiry and you will be contacted soon.
Continue View