Product Details
| | | | | | |
| --- | --- | --- | --- | --- | --- |
| Brand Name: | HuaZheng | Place of Origin: | Hebei, China | Model Number: | HZJS-1B |
Packaging Details
HS Code:9031809090.
Packaging: Wooden Box, No Need Fumigation.Standard Exported Packing.">portable oil in water analyzer
HS Code:9031809090.
Packaging: Wooden Box, No Need Fumigation.Standard Exported Packing.
Product Description
Automatic Oil Particle Counter
I. Overview
The HZJS-1B portable oil particle counter is designed using the principle of photoresist (shading method) to detect the size and number of particles in a liquid. Can be widely used in aviation, aerospace, electric power, petroleum, chemical, transportation, port, metallurgy, machinery, automobile manufacturing and other fields for hydraulic oil, lubricating oil, transformer oil (insulating oil), automotive oil (turbine oil), gear Oil, engine oil, aviation kerosene, water-based hydraulic oil and other oils are used to detect solid particle contamination, and to detect insoluble particles in organic liquids and polymer solutions.
II. technical indicators
1. Measurement range: 1um ~ 100um
2. Measurement channel: 8 channels, particle size can be set arbitrarily (according to the selected calibration curve particle size range)
3. Sampling volume: ≥0.2ml
4. Sampling speed: 5 ~ 80ml / min
5. Resolution: <10%
6. Coincidence error limit: 10,000 grains / ml
7. Pressure range: low pressure: 0~6bar high pressure: 3~400bar
8. Viscosity range: maximum 350cst
9. Data Storage: 1000 Groups
10. Power supply: AC220V±10%; 50Hz; ≤200W
11. Battery capacity: 5200mA
12. Battery continuous working time: 4 to 6 hours
13. Data output: built-in printer and RS232 interface
From the date of purchase within one year instrument, is a product quality problem free repair replacement, lifetime supply of maintenance and technical services. The instrument has found anomalies or malfunctions please contact us to arrange the most convenient treatment options.
HuaZheng Electric Manufacturing (Baoding) Co.,Ltd is founded in 2008,the supplier of the State Grid in China.It means we are the supplier of the Chinese Government.And our products spread throughout the whole China.
Our main products : Insulation Oil Tester, Cable Fault Locator, High Voltage Generator,transformer tester, relay protection tester,insulation resistance tester,Power Quality Analyzer and so on.
Close to Tianjin port, the transportation is convenient. our customers come from More than 50 countries, like America, England, Bulgaria, Brazil, Chile, Malysia, Vietnam and so on.
What's more, gurantee 1 year,life long maintance .Products through the CE, ISO, IEC certification, quality and reliable, factory price.
Warmly welcome all partners to join us for mutual benefits cooperation.
Credit member
Huazheng Electric Manufacturing (baoding) Co., Ltd.
Huazheng Electric Manufacturing (baoding) Co., Ltd. is established in year of 2008, located at Baoding city, Hebei province, China. It is a professional company specializing in the development and production of electric power testing equipment. Main products are transformer oil test series, high voltage test series, safety product test series, cable fault location system, relay & microcomputer protection test, etc. All of our products comply with international quality standard and obtained CE and ISO 9001 certificate. Our products are exported to over 100 countries and regions , and cooperate with some well-known enterprise in the world such as Ausgrid and Orient Oils, etc. We are dedicated to making HUAZHENG brand an industry benchmark in order to realize the dream of the HUAZHENG brand and serve the global clients. You are warmly welcome to visit Huazheng company!
View more
Contact Us
Huazheng Electric Manufacturing (baoding) Co., Ltd.
Find Similar Products By Category
Please complete the file below, we will email the catalog to you
Send
Send Successfully !
We will contact you as soon as possible!
Continue View
Please Enter your Email Address
Please enter the content for your inquiry.
We will find the most reliable suppliers for you according to your description.
Send Now
INQUIRY ABOUT Automatic Oil Particle CounterHuazheng Electric Manufacturing (baoding) Co., Ltd.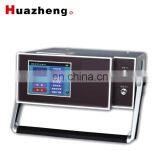 $10,000 - $15,800 / Piece
1 Pieces
HuaZheng
Hebei, China
Please Enter your Email Address
No typing, "Quick question" Help you!
Please enter the content for your inquiry.
Please reply me within 24 hours.
Yes! I would like verified suppliers matching service!
Send Now
Be contacted easily by perfecting the information.
Finish
Successfully!
Thank you for your enquiry and you will be contacted soon.
Continue View