Product Details
| | | | | | |
| --- | --- | --- | --- | --- | --- |
| Brand Name: | HuaZheng | Place of Origin: | Hebei, China | Model Number: | HZCM-1B |
Packaging Details
Packaging: Wooden Box, No Need Fumigation.Standard Exported Packing.">HS Code:9031809090.
Packaging: Wooden Box, No Need Fumigation.Standard Exported Packing.
Product Description
Factory Price Measurement Meter oil Conductivity Meter
The Oil Electrical Conductivity Meter is a instrument for measuring the electrical conductivity of gasoline, kerosene, diesel oil and the like low-density petroleum products, which can also be used to measure the electrical conductivity of various insulating organic solvents, such as transformer oil, compressor oil, lubricating oil, and vegetable oil. By measuring the parameters of electrical conductivity,the oil's security of static charge, electrical insulating property, purity and other physical properties can be found out fleetly.
The instrument will measure oil conductivity between 0 and 19999 picosiemens/meter(ps/m), and
its resolution is 1 ps/m.
This instrument is designed and produced consulting Amarican Standards ASTMD4308-89
"Standard Test Methods for Electrical Conductivity of Aviation Fuel With Static Dissipator
Additive"and International Standard: ISO6297 " Aviation and distillate fuels - Determination of
electrical conductivity " , and meeting the requirement of National Standard GB6950-2001"Light
Oil Secure Static Electrical Conductivity", GB/T6539-1997 "Determination of Aviation Fuel and
Distillate Fuel Conductivity", and GB13348-1992 "Safe Regulation of Static for Liquid Oil
Products", which is suitable for using under the scene environment of airport, tank farm of the the
oil refinery, gas station, and oil labouratory.
This instrument was certified by Science and Technology Department of Ministry of Machine
Building, Science and Technology Department of China Petroleum & Chemical Corporation, and
Oil Department of Civil Avaiation Administrtion of China in the electrostatics commission of
Chinese Physics Society unitedly in 1984, and the year 2008 see the updating of this product to the third generation with new technology in this new century.
TECHNICAL PARAMETER
(1) MEASUREMENT RANGE: 1 ~ 19999 pS / m; RESOLUTION: 1pS / m;
(2) ACCURACY: accuracy of conductivity measurement:1 ~ 19999pS ± (2% +2 pS);
(3) STRUCTURE CONSTANTS AND STRUCTURE ACCUARCY OF CONDUCTANCE CELL: 1.00 / m ± 2%;
(4) READING MODE:
LED 4 1/2d display; Self-check button.
(5) POWER: intermittent power supplied by one interior stacked battery(model 6F22, 9 volt).
(6) ENVIRONMENTAL REQUIREMENTS:
Temperature: 0 ~ +40 ℃
Relative Humidity: ≤ 85%
suitable for using under the scene environment of gas station of civilian airport and oil
labouratory.
(7) STRUCTURAL PERFORMANCE:
Semi-enclosed structure
Intrinsic safety: iaAT5
Compact structure, handheld
(8) METER DIMENSIONS:
Host: φ100 × 35mm
Electrode: φ14 × 140mm
(9) WEIGHT: 0.4 kg
From the date of purchase within one year instrument, is a product quality problem free repair replacement, lifetime supply of maintenance and technical services. The instrument has found anomalies or malfunctions please contact us to arrange the most convenient treatment options.
HuaZheng Electric Manufacturing (Baoding) Co.,Ltd is founded in 2008,the supplier of the State Grid in China.It means we are the supplier of the Chinese Government.And our products spread throughout the whole China.
Our main products : Insulation Oil Tester, Cable Fault Locator, High Voltage Generator,transformer tester, relay protection tester,insulation resistance tester,Power Quality Analyzer and so on.
Close to Tianjin port, the transportation is convenient. our customers come from More than 50 countries, like America, England, Bulgaria, Brazil, Chile, Malysia, Vietnam and so on.
What's more, gurantee 1 year,life long maintance .Products through the CE, ISO, IEC certification, quality and reliable, factory price.
Warmly welcome all partners to join us for mutual benefits cooperation.
Credit member
Huazheng Electric Manufacturing (baoding) Co., Ltd.
Huazheng Electric Manufacturing (baoding) Co., Ltd. is established in year of 2008, located at Baoding city, Hebei province, China. It is a professional company specializing in the development and production of electric power testing equipment. Main products are transformer oil test series, high voltage test series, safety product test series, cable fault location system, relay & microcomputer protection test, etc. All of our products comply with international quality standard and obtained CE and ISO 9001 certificate. Our products are exported to over 100 countries and regions , and cooperate with some well-known enterprise in the world such as Ausgrid and Orient Oils, etc. We are dedicated to making HUAZHENG brand an industry benchmark in order to realize the dream of the HUAZHENG brand and serve the global clients. You are warmly welcome to visit Huazheng company!
View more
Contact Us
Huazheng Electric Manufacturing (baoding) Co., Ltd.
Find Similar Products By Category
Please complete the file below, we will email the catalog to you
Send
Send Successfully !
We will contact you as soon as possible!
Continue View
Please Enter your Email Address
Please enter the content for your inquiry.
We will find the most reliable suppliers for you according to your description.
Send Now
INQUIRY ABOUT Factory Price Measurement Meter oil Conductivity MeterHuazheng Electric Manufacturing (baoding) Co., Ltd.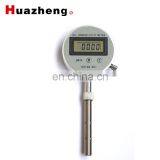 $800 - $1,200 / Piece
1 Pieces
HuaZheng
Hebei, China
Please Enter your Email Address
No typing, "Quick question" Help you!
Please enter the content for your inquiry.
Please reply me within 24 hours.
Yes! I would like verified suppliers matching service!
Send Now
Be contacted easily by perfecting the information.
Finish
Successfully!
Thank you for your enquiry and you will be contacted soon.
Continue View